Trace – 10to12artists at Palace Contemporary Projects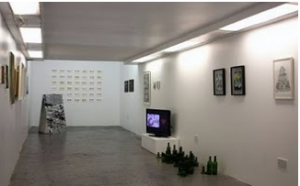 Opening reception:
6–8pm Wednesday, 17th June 2009
Exhibition continues:
12–6pm, 18th–20th June 2009
Plotting a course… following a path… pursuing their own process… 10 to 12 artists set out together to trace a new route. With a lightness of touch, embracing models of production and activity from artists they admire, they develop for themselves new practices to describe their world.
Trace is the inaugural show of a new artists' collective called '10to12artists', formed by graduates of IADT in 2008. The show features new works in a variety of media including drawing, painting, photography, video and installation.
10to12artists are: Lorraine Byrne, Gráinne Brady, Pamela de Brí, Charles Henihan, Jacinta Hughes, Denise Kevany, John Murray, Joe Nagle, Roma Przedpelska, Ann Turpin and Mary Quinn.
The works for Trace have been selected by Niall Flaherty, who is a practicing artist and educator, a founder member of Blackletter Artists Group and currently a member of Monster Truck Gallery's curatorial team.
This is an artist-initiated project, as part of the independent summer programme of exhibitons at the Pallas Contemporary Projects
www.10to12artists.blogspot.com
www.pallasprojects.org
---
Categorised as: Curation, Fine Art
---