A Lively Start to a Dead End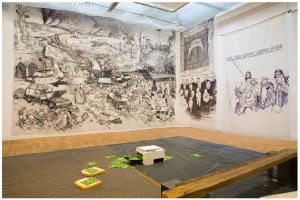 I loved this show in the RHA recently, an inspired and generous effort, and a great use of the large upstairs space at the RHA. Everyone I spoke to about it was hugely impressed.
Nevan's work has had a strong popular following, and despite an overall positive critical reception for the show, the reviews while positive in tone, were with a few exceptions somewhat less generous in spirit than the exhibition itself. On the evidence of the overall response to this show though, I think even his critics may be starting to warm to him.
All images from www.nevanlahart.com
---
Categorised as: Random
---