NCAD CEAD (Continuing Education in Art and Design) has published it's part-time course handbook for 2010/2011. (Download pdf via www.ncad.ie website)
My course entitled 'Website design and promotion for visual artists and craftspeople', is offered by NCAD CEAD in 2 separate 5-week runs on Monday nights. The course runs from Sept 27th – Nov 1st and Nov 8th to Dec 6th.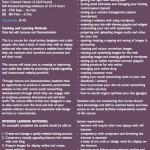 We can cover a lot in 5 weeks, have a read through the course overview and learning outcomes for more info. (Click image to enlarge)
A version of this course was taught in Clare in association with the Clare County Council Arts Office and VAI, and the website promotions module was delivered during both the NSF and VAI's annual artists training programmes last year.