Kingdom of Bling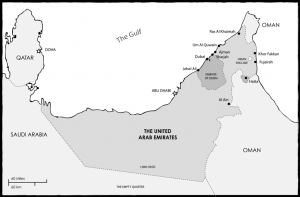 I drew some maps recently for a new book by Raymond Barrett called 'Dubai Dreams: Inside the Kingdom of Bling', it got great reviews, was The Irish Times book of the day upon it's release and is available to buy on Amazon. The maps are nothing fancy, just clear and concise, illustrating how the UAE fits into the Gulf region, and it's proximity to it's neighbours, especially Saudi-Arabia and Iran.
Raymond is a journalist who has lived in Kuwait for ten years and writes on Middle Eastern affairs for The Sunday Business Post, Foreign Policy and The Guardian amongst others.
Read articles from Raymond on his site here.
---
Categorised as: Illustration
---